1926
Son of a cooper and winemaker himself, Louis Picamelot is one of the first Rullyotins to start the production of Bourgogne sparkling wines.
Années 30
Maison Louis Picamelot's first bottles appear on the market. The traditional method, called Méthode Champenoise, is entirely carried out manually.
1948/1949
Several bottles of Bourgogne sparkling wine from Louis Picamelot are put in the holds of the first boats chartered for the Paul Emile-Victor's first expeditions to Antarctica.
1949/1953
Louis Siraudin and Jean-Baptiste Chautard, husbands of Louis Picamelot's two daughters, Marie-Thérèse and Simone, respectively join the family-owned company.
1970/1971
The House takes part in the Saint-Vincent Tournante hold in Rully. Alain Chautard, Louis Picamelot's grandson, joins the family company.
1980
Philippe Chautard, Jean-Baptiste's second son, joins the company and takes over its management in 1987.
1989
Maison Louis Picamelot sends its first bottles outside of France destination Belgium. It has been a continuous success since then.
1991
First grapes purchased by the wine house.
1995
Welcoming in Rully the World's best sommelier of the year, Mr Shinya Tasaki (Japan).
1998
Saint Vincent Tournante taking place in Rully again. Special guest: Jean-Pierre Coffe.
2000
Acquisition of a former quarry of over 4000 m² then transformed into a modern winery entirely carved in stone.
2003
Philippe Chautard's love at first sight and intuition: the House purchases a 2-hectare plot located in a wonderful Clos of Rully 1er Cru called "Le Clos du Chaigne".
2007-2012
Acquisition of vineyards plots in Saint-Aubin (La Rochepot) in the places called "En Chazot" and "Les Reipes".
2016
Several forgotten terroirs of the Dukes of Burgundy reborn and replanted in the central zone of the Burgundy Climats (inscribed on the UNESCO World Heritage List since July 4th of 2015). The place called "Les Epoutières", for instance, which first written trace dates back to 1228.
2019
Historical move to the new bio-climatic building made up of 150 meters of rocks. Nowadays the vines cover a surface area of over 17 hectares.
Our team
Jonathan Jeudy

Vineyard Manager

Philippe Chautard

Owner and Director

Franck Richard

Production Manager

James Moreau

Vineyard worker

Catherine Gaget

Winery, packaging and shipping employee

Charlie Cortet

Winery worker

Christine Royer

Maintenance and production employee

Anne-Lise Lambert

Sales assistant

Marie-Laure Nicolas

Administrative Manager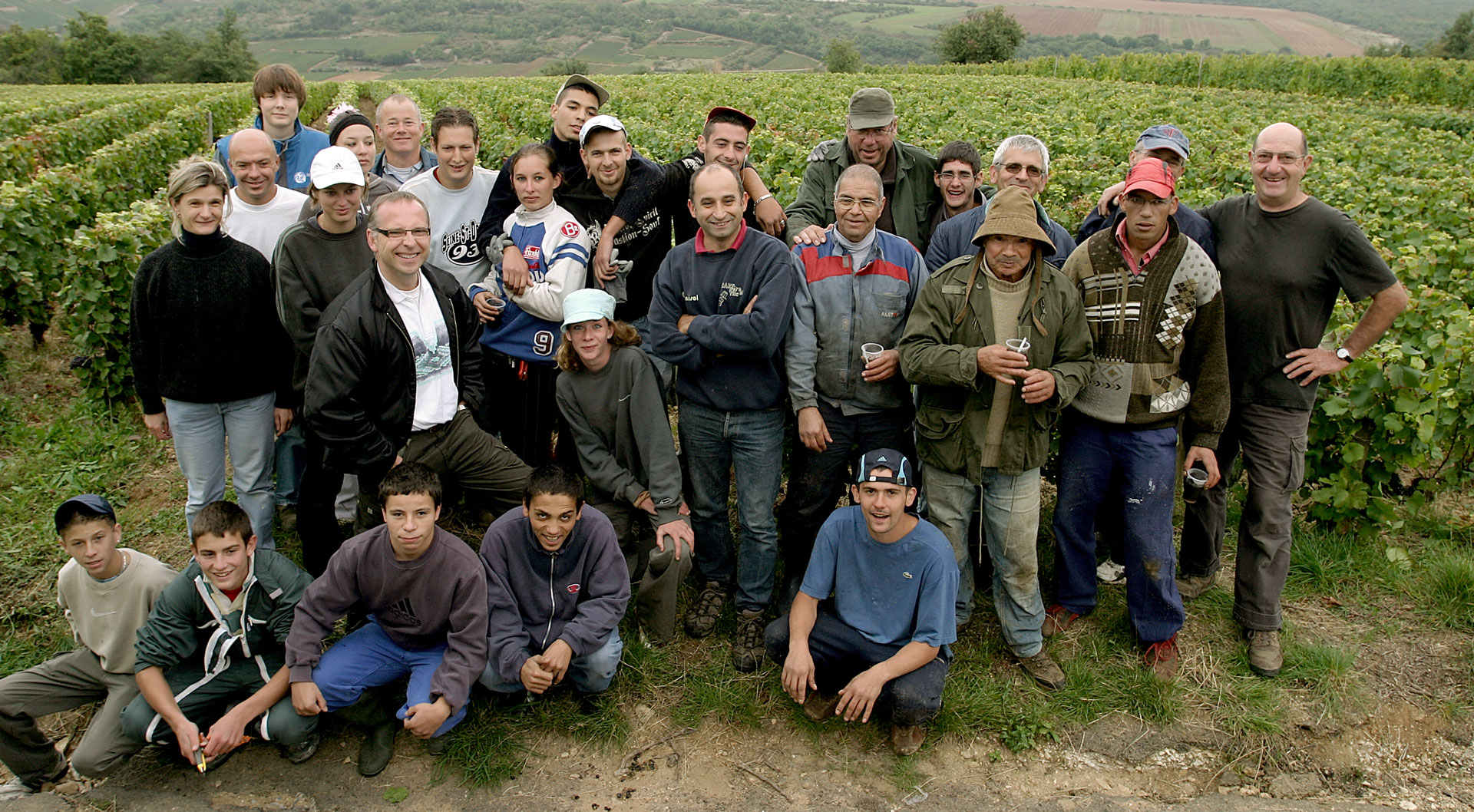 First harvest in the vine plot "EN CHAZOT" in 2007.